Amy Gandy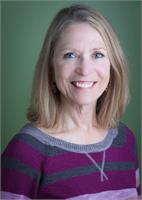 CYT, RYT-200
Amy found her home in yoga many years ago beginning in the Inyengar tradition. The motivating force behind her teaching style is the use of breath to facilitate the meditative quality of moving to join body and mind. Thankful to have found a way to reach personal peace and balance on a regular basis, Amy is committed to helping her students deepen their own body body-mind connection through yoga, including achieving health and stress reduction. Her classes are nurturing, while they support personal and physical growth and evolution. Amy teaches Tuesday 8:30 am Vinyasa Flow, helps out at the front desk, often substitutes for other classes, and is available to teach Yoga privately.
Amy Gandy instructs the following:
(Beginner) A continuous 9 week series, teaching basic postures to introduce movement, breathing and relaxation techniques. Written material is offered to support your understanding of what you learn in class.




(Open to all except new beginners) A balanced, flowing series of poses, awakens the breath, balances the body and creates flexibility & strength. This warming, revitalizing vinyasa practice supports the various systems of the body, while quieting the mind. Sun salutations, standing poses, balance poses, backbends, twists and forward bends are used in unique combinations of pose/counterpose.