Buck Lawrence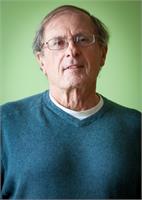 CYT, RYT-200, certified in Yin Yoga
His first personal yoga journal entry sort of sums up his yoga experience: "January 1, 2006---a new year---a real desire to take this practice of yoga into my very being. A longing to bring into my personal life a balance of my mind---my body---my soul. To seek that point where they are all in harmony with each other." That lead to his taking the teacher training program of Laura Tyree and Moira Anderson, to receiving the 200 hour certification from Yoga Alliance, to workshops with Doug Keller, Cora Wen, Baxter Bell, and others. He personally loves the discipline of ashtanga yoga, the sweat of hot yoga, and the calmness of yin yoga.
Buck enjoys teaching yin classes: the stress on the skeletal body (bones, joints, tendons, ligaments) the movement of the fascia (integrating mesh that envelops the bones, muscles, and organs) deep within, and the meditative long (up to five minutes) holds to the poses. He looks forward to the honor of having you participate in a class.
Buck Lawrence instructs the following:
(Open to all): Focusing on long held, deeply relaxing, "stretching" seated poses combined with attention to the breath, Yin Yoga goes deep into the connective tissues (bones, Joints, fascia) with emphasis on the hips, pelvis and lower back. Benefits include greater range of motion & flexibility, improved circulation, deeper relaxation & release of tension. In "yin" yoga the pose is typically held for 3 to 5 min, allowing for deep tissue opening.




(Open to all):

A gentle yoga class that includes introduction to vinyasa flow, which combines attention to the breath with gentle, flowing, therapeutic movement.