Andi Williams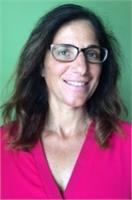 Andi's passion for yoga began with a desire to stay fit during her third pregnancy while living in San Diego, CA. Through her practice, she found serenity, peace of mind, and self-awareness. Wanting to develop her personal practice she began Teacher Training at River Rock Yoga & Pilates in Ocean Springs, MS. During this journey she discovered a desire to share her passion for yoga with others.
Andi has completed her 200hr Yoga Teacher Training Certification with Moira Anderson and Laura Tyree at River Rock Yoga, Children's Yoga Certification through Kidding Around Yoga, and is a Trauma Informed Instructor through the Veterans Yoga Project. She creates a comfortable and warm space where everyone and every ability is welcomed and valued. Ultimately, her hope is for her students to begin listening to their unique language and wisdom of their bodies, and take their yoga practice off the mat and into their everyday lives.
Andi Williams instructs the following:
(Beginner) A continuous 9 week series, teaching basic postures to introduce movement, breathing and relaxation techniques. Written material is offered to support your understanding of what you learn in class.




Yoga for Athletes with Andi Williams

6 Weeks on Wednesdays, 10/4 - 11/8/17

Noon-1:00 pm

Suitable for beginners, those who have not practiced recently, those with injuries or substantial inflexibility, or simply people with athletic pursuits who are seeking a class that will deepen, strengthen, and align with deliberate, mellow transitions, and clear hands-on instructions.
An approachable and consciously-paced yoga class focused on building a foundation for a sustainable lifelong yoga practice.
A class that integrates classical asanas and core movements/stretching at a mellower pace, giving you time to go deep - or even stop - depending on how you feel.

Questions and communication is encouraged during class.
Investment - $60
8 Student Maximum




(Open to all except new beginners) A balanced, flowing series of poses, awakens the breath, balances the body and creates flexibility & strength. This warming, revitalizing vinyasa practice supports the various systems of the body, while quieting the mind. Sun salutations, standing poses, balance poses, backbends, twists and forward bends are used in unique combinations of pose/counterpose.