Ali Leggett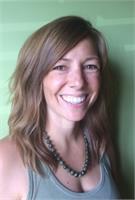 Ali was first introduced to yoga over 15 years ago and the practice has been rooted in her life ever since. "Yoga has helped me to slow down and become more aware of my thought and response patterns. In addition to building physical strength, yoga has increased my mental and spiritual resilience and led me to explore more deeply the yogic philosophies that guide my practice and shape my life." Ali's formal education is in Natural Resource Conservation where she has dedicated the past 12 years of her career to preserving natural areas on the Mississippi Gulf Coast. She believes in the profound healing of time spent outdoors and our obligation to be good stewards of the natural world. She is a student of life and a lover of travel, music, creating, and learning. Ali completed her 200hr Yoga Teacher Training Certification in 2015 with Moira Anderson and Laura Tyree at River Rock Yoga. Through yoga she has cultivated balance, connection, and a desire to live fully and presently in this wild and beautiful life.
Ali Leggett instructs the following:
(Beginner) A continuous 9 week series, teaching basic postures to introduce movement, breathing and relaxation techniques. Written material is offered to support your understanding of what you learn in class.